Discover more from Aave News
A weekly recap of the Aave ecosystem, brought to you by the Aave Grants DAO.
Over 1,000 subscribers
Aave News: Updates Abound - Paris, AMPL, PAX, and Liquidity Mining
A recap of the Aave ecosystem, July 19th to July 25th 2021
Welcome to Aave News 👻 Delivering the News News on AaveAave.
Keep reading for coverage on: Aave Grants DAO Update 🏗 , State of the protocol 📰 , Ecosystem 🧉 , Governance ⚖️ , New market watch 💹 , Mark your calendar 📆 , Aavengers in the wild 🎙 , and Water cooler 🆒
Aave Grants DAO Update
🏗
This Thursday. The next AGD Community Call will be hosted on Twitter Spaces at 4pm UTC, July 29th. Hopefully you can drop in! We have an awesome agenda lined up including updates on high priority unanswered RFPs from @AaveGrants, the liquidity mining program from @ParaFiCapital, $AMPL being added to Aave v2 from @AmpleforthOrg, and four AGD recipients - @DeFiAlliance, @SymphonyFinance, @FlipsideCrypto, and @Boardroom_info.
State of the protocol
📰
New standard. At EthCC, @lemiscate unveiled the Aave cross-chain governance bridge. This will enable Aave governance on Ethereum to control the markets on Polygon and other networks as they launch. The code could become the standard for cross-chain governance that other protocols fork and adopt.
More metrics. Check out:
Ecosystem
🧉
DeFi Alliance heating up. The @DeFiAlliance officially welcomed @0xPolygon and AGD to their Ecosystem Partnership Program. Startups focused on building in the Aave ecosystem will receive support including at least two projects that are AGD recipients. Any interested teams can apply for the next cohort before August 11th.
Good Ghosting. If you were one of the 300 people who jumped into the @goodghosting saving pool in honour of EthCC, be sure to make your next deposit this week! The pool is now full so if you missed this one look out for new pools soon.
Aave Memes. Every week there is a new theme and fresh pool of $850 awarded to the top three memes. Follow @AAVEMemes to be the first to know the theme and to see the winners each week.
Governance
⚖️
3 AIPs, 3 Yaes. It was a busy week in the governance portal with three AIPs moving to on-chain vote. Each proposal met quorum and passed, resulting in AMPL and PAX being added to Aave v2 and the liquidity mining program being renewed for four weeks.
AMM Market Rebirth. @The3D_ made a proposal to renew the AMM Market assets by adding LP shares from Balancer V2. Although low total voting power, 89 Aavengers showed their support on a Snapshot vote that ended yesterday. Updating the AMM Market should attract new assets and will hopefully kickstart a new phase of growth for the market.
New market watch
💹
AMPL and PAX. Welcome $aAMPL and $aPAX to the Aave v2 market 👋 The AMPL market is live and the PAX market will go live soon.
DPI. After an ARC to add DPI and a positive Snapshot vote last week, it is clear there is support from the community to bring DPI to Aave. Currently, there is conversation whether DPI should be added to the AMM Market or to Aave V2 which has interesting implications for creating a DPI2x-FLI product. Catch up with the conversation and add your thoughts to the post.
Mark your calendar
📆
AGD Community Call Three - July 29th at 4pm UTC on Twitter Spaces
Stani will be speaking at:
Aavengers in the wild
🎙
NFTs as collateral. Stani started last week by joining Staking Mondays for a round of Q & A. Highlights include how Stani invests in Web3, how Aave's staking module protects users, the end goal for the Aave team, and whether Stani was serious when he said that Aave would build Twitter on Ethereum. Listen for Stani's answer about the future of NFTs as collateral 👇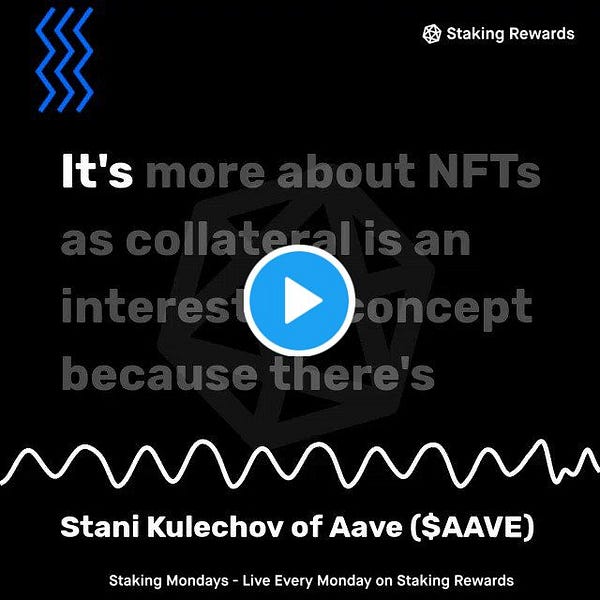 Credit delegation 101. How can liquidity from DeFi be brought to the real economy? Stani took the stage at EthCC to explain the huge impact credit delegation can have by unlocking opportunities for builders to bring DeFi liquidity to the real economy.
Put simply, "Credit delegation allows for Aave depositors to delegate some or all of their ability to borrow against their collateral to another third party."
Highlights and timestamps of topics covered:
Water cooler
🆒
Ghost score. A credit score based on your Aave activity? Great opportunity for a keen builder to apply for a grant from AGD.
👻 > 🐦 . If you're curious to hear more details about Aave building a decentralized version of Twitter, be sure to catch this episode of @modern_fi when it drops.
New app. The Aave team is growing to build an app. All eyes will be watching what they focus on, whether it is a front end for DeFi, a social media app, a combination of the two, or something else big-brained.
Aave News out, bring on a great week.
Please direct all feedback and requests to @0xbilll!
Learn more and join the AGD community: